Subterranean tests in US (2021)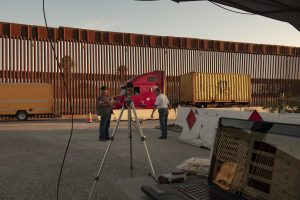 Global Innovations, Inc. (GII), in close cooperation with Precision Sensors and Instruments (PSI) and commensurate with the request and support of US Border Patrol's Program Management Office Directorate, successfully recorded critical detection of subterranean activities along the southern border.
PSI's autonomous seismic sensor system, at the preselected US southern border tunnel location, identified subterranean activities in a blind test demonstration. The subterranean void was detected and located.
Surface and subterranean tests were also conducted at the University of Arizona underground mine laboratory location comprised of three deeper tunnels. The significant detection capabilities were demonstrated with results shown below:
Southern Border Tests – The sensors, buried 10 inches below ground surface, detected simulated tunnel construction and operation activities in a previously captured smuggling tunnel in the San Diego Sector area of operation. The recorded signals were precise enough to use a manually calculated method to pinpoint the exact tunnel location. In addition, the unique spectral responses from the tunnel activities enabled our team to visually differentiate various types of subterranean activity on the command-and-control computer monitor (e.g., electric hammer drill digging, drop tests and railcar movements, etc.). During the blind test phase, the autonomous system again successfully recognized the subterranean activities noted above.
San Xavier Underground Mine Laboratory – Seismic sensors buried 10 inches below ground surface detected various subterranean activities such as walking, drilling, drop tests and hammer/chisel impacts at tunnel depths of 40, 100 and 150 feet deep. Surface activities included walking, drop testing and driving a heavy-duty pickup truck on a dirt road approximately 300 feet from the buried sensors.